Innovations for Development works with community changes agents in underprivileged communities to advance tested innovations through collaborative learning, providing tailored support for the design and implementation of health systems reforms, service delivery and research and analysis to capture practical lessons and catalyze innovations.
The Challenge
Uganda is struggling with Reproductive Health Challenges. These include high teenage pregnancy, high maternal death, HIV/AIDS, etc. With a youth population of 56%, the high risk of sexually active women accounts for 16% of the youth, while the high risk of sexually active men accounts for 36%. Related to these behavioural challenges are unwanted pregnancies, sexually transmitted infections and cross-generational sex that is grossly exploitative, especially for the girl child.
Reproductive Health of adolescents is dependent on several complex and often independent factors including social-cultural influences (such as family, peers and communities), and access to health services, education and employment opportunities. In Uganda, abortion is legally restricted and post-abortion care (PAC) services are provided by doctors, clinical officers and midwives in all facilities. The provision of PAC services is always limited by inadequately trained staff and a lack of other resources.
Although both male and female adolescents have many reproductive health challenges, female adolescents have additional burdens that are gender and sex-specific. For example, early pregnancy which is associated with high morbidity and mortality not only to the mother but also the child. Other challenges include a high unmet need for Contraception and high prevalence of Gender-Based Violence
Our Approach
I4DEV is working with change agents in communities to Quality Healthcare Service, support policymakers and practitioners as they design efficient, equitable and sustainable healthcare systems, generate evidence to champion advocacy. Our approach focuses on building in-country capacity to use evidence and effectively implement health reforms on critical topics such as sustainable financing, strengthening primary care systems, improving the quality of health services and expanding population coverage.
Family Planning & Safe Abortion
Innovations for Development believes that access and use of quality, equitable, rights-based family planning services is a must for all. Our goal is to address the unmet need for modern contraception by building the capacity of the healthcare system to deliver quality family planning services including Abortion as a choice for those that need it.
The Challenge
Uganda's unmet need for modern contraception is currently at 34.6% with 21% in need of spacing and 14% in need of limiting pregnancy. The country's modern contraceptive prevalence rate (mCPR) is 35%.
The poor access and availability to quality FP services which is characterized by very few skilled/competent FP providers especially in rural underserved & hard to reach areas, inadequate FP commodities security especially the LARCs to ensure required method mix and poor counselling and mismanagement of contraception side effects.
Unfavourable social & gender norms that cause low demand for FP services by those that need FP services most. This is characterized by; persistency of misconceptions or myths/misinformation, poor attitude by men & spouses toward FP, gender inequality (manifested by high GBV, high desire for children, early sex initiation among girls, high teenage marriages), cultural barriers and religious practices that promote resistance to contraception use.
Unfavourable policy environment which is characterized by; low implementation of agreed plans and policies at district and sub-district levels, poor funding, limited inter-sectoral coordination, integration and collaboration, inadequate committed leadership/stewardship and weak accountability mechanisms.
Our Approach
I4DEV's work is geared at increasing access in underserved areas, sustainable use among the most vulnerable, improve security and strengthen the social, political environment to sustain achieve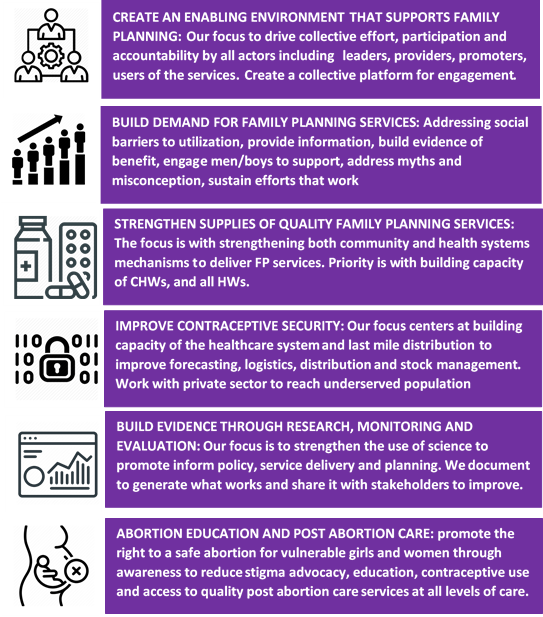 Maternal Newborn and Child Health
Innovations for Development works with change agents in communities to provide analysis, facilitate collaborative learning, shape markets and support increased public-private engagement to strengthen health systems and reduce preventable maternal and child deaths.
The Challenge
Every year, more than six million children under age 5 die from preventable causes and nearly 300,000 mothers die from pregnancy- or childbirth-related causes (WHO 2016). High-impact interventions to reduce preventable maternal and child deaths exist, but they cannot be sustained within weak health systems.
Effective and resilient health systems are needed to ensure access to high-quality services for mothers and children across the continuum of care. Holistic health systems strengthening efforts combined with clinical- and community-based interventions can help to sustain reductions of and further decrease preventable maternal and child deaths.
Our Work
I4DEV's approach to provide direct service delivery, strengthen health systems for maternal and child health services often begins with a focus on an individual system component like financing or health workforce. It also incorporates a holistic approach to ensure supportive management, governance and policy functions, which together produce sustainable improvements to the health system and, ultimately, to maternal and child health service delivery.
Our model to reduce maternal newborn and child mortality consists of improving coverage of effective integrated services at the different continuum of care. Starting with family planning, antenatal care (i.e., prenatal care) and treatment of anaemia, safe abortion, and postpartum care, the model includes both intrapartum interventions that reduce the incidence of a complication (e.g., misoprostol for postpartum haemorrhage [PPH], clean delivery for sepsis), as well as those that reduce the case fatality rate through appropriate management in a referral facility.
The interventions are geared at either reduce the incidence of complications or to reduce case-fatality rates associated with complications depends, in part, on access to specific services (e.g., trained Skilled Birth Attendants [SBA]) and to specific levels of facilities (e.g., comprehensive EmOC cEmOC] with capacity for blood transfusion).
Accordingly, the ultimate impact of our interventions depends on several setting-specific factors. These include delivery site, presence of birth attendant, quality and type of referral facility, as well as a successful referral when necessary. Our model therefore explicitly considers the location of delivery, type of assistance, access to basic or comprehensive obstetrical care, and the ability to overcome a series of barriers around the timing of delivery (e.g., recognition of referral need, reliable transport, timely treatment at an appropriate referral facility); these factors collectively determine the health services a woman can access and the specific interventions that would be included
This model also allows us to evaluate phased approaches that involve scaling up access to services over time; the stepwise investments in infrastructure required to assure high-quality intrapartum care are designated as "upgrades." In addition to reducing unmet need for family planning and unsafe abortion, four consecutively implemented strategies increased skilled attendants, improved antenatal/postpartum care, incrementally shift births away from home, and improve the availability and quality of EmOC. For women delivering at home or in birthing centres, these also include improvement in the provision of referral need, access to transport, and expedient referral to an appropriate facility.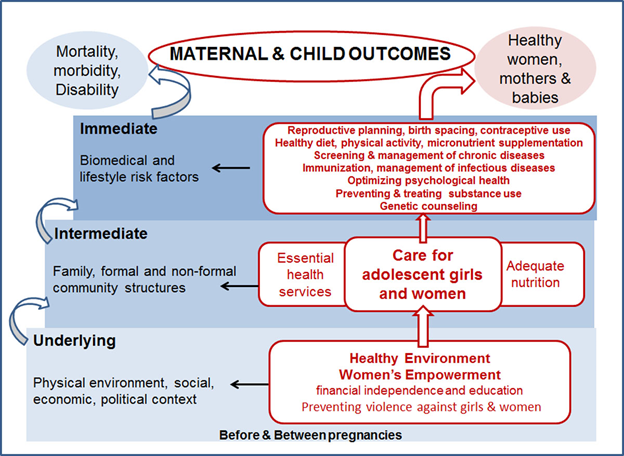 HIV and AIDS response
The Challenge:
More than 1.4 million people in Uganda are living with HIV. HIV/AIDS epidemic continues to have a gender, social and economic perspective. For instance women especially the young, poor, and urban continue to disproportionately suffer from with high prevalence of infection. About 85% of sex workers are living with HIV and 5.7% of people living with HIV are children (0-14).  At the end of the last decade, it was clear from years of experience, as well as ever-accumulating data, that adolescent girls and young women continue to acquire HIV, in large part due to gender inequality, poverty and gender-based violence (GBV). Key populations continue to acquire HIV, mainly due to the criminalization, marginalization and violence that they experience. Prisoners, refugees, migrants and people with disabilities suffer from limited or no access to HIV prevention and treatment services, and people living with HIV are discouraged from accessing HIV prevention and treatment interventions for fear of stigma and discrimination, or even arrest should their status become known.
Our Approach:
I4DEV aspires to address all the challenges facing those most vulnerable to HIV and to the impact of AIDS, by supporting these populations to navigate the social, legal and economic challenges that make uptake and adherence to HIV prevention and treatment difficult. The Intervention supports those vulnerable to and living with HIV to know their rights to health, non-discrimination, and freedom from violence; to organize around these rights and the protective laws and policies in their communities, and to get support and assistance to overcome the stigma and discrimination, punitive policies, police abuses and other risks and harms that prevent them from accessing services. I4DEV also supports healthcare workers, police, judges and parliamentarians to work against stigma, discrimination and violence. We continue to complement national HIV strategies and programmes through supporting healthcare, policy advocacy and proactive legislation.
Our investment approach to reduce HIV Human Rights related barriers