Cities, being the heart of technological development and economic growth of many nations, play multifaceted functions in all societies. At the same time, they serve as a breeding ground for poverty, inequality, environmental hazards and communicable diseases due to the increasing numbers of people. The WHO estimates that over 55% of the world's population lives in urban areas and this proportion is expected to rise to 68% by 2050, with most future urban growth taking place in developing countries.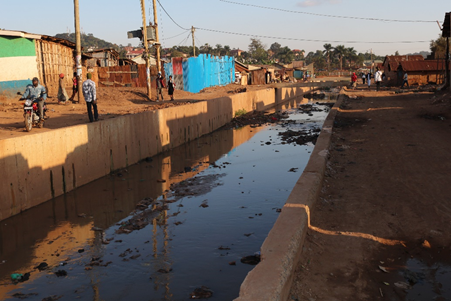 Uganda like many sub-Saharan African countries is experiencing an increase in the urban population. This has come with several challenges including poverty, the emergence of informal settlements, limited infrastructure, inequities in the provision of social services and climate change, all of which affect mostly the poor.
For example, the increase in the urban population results in urban slums that are unregulated, congested, positioned near open sewers and restricted to geographically dangerous areas subject to landslides, flooding or industrial hazards – factors that lead to the spread of communicable and non-communicable diseases, pollution, poor nutrition, etc.
Our Approach
Increasing community participation in creating evidence and knowledge about their health needs and expressing this information more effectively;
Engaging stakeholders in dialogues about why and how they study the health needs of the urban poor;
Engaging national health researchers and policymakers in dialogues about increasing evidence-based interventions for the urban poor.
Innovations for Development undertook an initiative to gather promising practices on urban health equity in Kampala, Uganda. Examples of promising practices on equity in urban health and well-being were gathered through a document review and I4DEV implemented the three case studies in Kampala, covering (a) sustainable waste management to address flooding in Bwaise III parish slum communities; (b) sustainable micro-gardens to address food insecurity in Gayaza parish; (c) community-led water and sanitation in Kampala's urban informal settlements.
Implementing partners: EQUINET, Training and Research Support Centre (TARSC)
Funding by: International Society for Urban Health (ISUH)